WHAT IS DIGITAL EYE STRAIN
HOW TO REDUCE DIGITAL EYE STRAIN
WHAT IS DIGITAL EYE STRAIN
WHAT IS DIGITAL EYE STRAIN?
In today's technology driven world, the average person spends hours on their digital device. Blue light emitted by screens can increase eye strain and fatigue, and potentially negatively affect the health of our eyes. Although it may present different in each individual, some symptoms include:
Blurred vision
Headaches
Dry eyes
Eyestrain
Neck or shoulder pain
Solutions to problems from digital eye strain can differ from patient to patient. However, these can be discussed at your regular eye exam. Book an appointment with us for more information on how you can protect your eyes and reduce strain.
HOW TO REDUCE DIGITAL EYE STRAIN
Learn more about Digital Eye Strain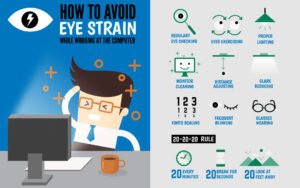 Don't forget to take a break! Here are some tips to help avoid digital eye strain: Blue Light Lenses: Lenses that have a specialized coating
Is blue light hurting your vision? Find out how the light can affect you. Blue light is produced naturally by the sun and generated by
Have you ever wondered why some people become nearsighted? Lack of time in the sun may be to blame. Does Outside Play Improve Children's Eyesight?
Request an Appointment
We can accommodate your busy schedule and we do direct billing!
Still have questions?
Let us know how we can help.