Are you at risk of an eye problem at work? These tips will help you avoid injuries and discomfort.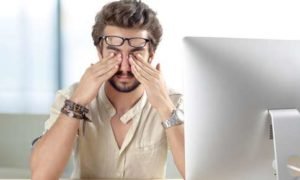 How to Protect Your Eyes at Work
Work-related eye injuries affect more than 2,000 people every day and cause temporary or permanent vision loss in 10 to 20 percent of all cases, according to Prevent Blindness. Unfortunately, injuries aren't the only eye problems you may experience on the job. In today's digital world, prolonged exposure to digital screens may also affect your eyes. Luckily, it's easy to safeguard your vision by following a few of these tips.
Use Eye Protection Every Day
Do you avoid wearing goggles or safety glasses because you find them inconvenient or uncomfortable? If you work in an environment where flying debris or chemicals could injure your eyes, you may regret your decision one day. Even a tiny speck of metal or sawdust can harm your vision or irritate your eye.
If the eye protection your company provides isn't comfortable, ask your supervisor to purchase new eyewear or buy your own. Look for goggle, glasses, and shields that:
Completely Cover Your Eyes, Including the Sides
Are Shatterproof
Don't Restrict Your Vision
Are Comfortable When Worn Over Prescription Eyeglasses
Won't Be Damaged By Exposure to High Temperatures or Hot Liquids
Are Easy to Clean
Provide Ultraviolet (UV) Protection If You Will Be Welding or Performing Other Tasks That Expose You to UV Light
Take Frequent Screen Breaks
Dry eyes can be an issue after spending time viewing a computer, cellphone, tablet, and other digital screens. When you look at screens for long periods of time, you tend to blink less, which can cause or worsen dry eye.
Dry eye is just one of the symptoms of computer vision syndrome, a common condition in today's technology-driven world. Other symptoms include blurred vision, headaches, eyestrain, and neck and shoulder pain.
Following the 20/20 rule can help you avoid computer vision syndrome symptoms. After looking at a screen for 20 minutes, focus on an object in the distance for at least 20 seconds to reduce symptoms. Build regular breaks into your schedule if you spend the entire day working with a computer or other digital device. Artificial tears can help you keep your eyes moist and comfortable.
Changing the position of your screen may also be helpful if you experience any of the symptoms of computer vision syndrome. The American Optometric Association recommends keeping screens 15 to 20 percent below eye level for optimal comfort.
Use Computer Glasses
Computer glasses provide a simple way to reduce eyestrain, dry eye, and other computer vision syndrome symptoms. The glasses provide clear vision at a distance of 20 to 26 inches, reduce glare, and shield your eyes from the effects of potentially harmful blue light emitted by digital devices.
Try New Lenses to Reduce Sensitivity to Light
Working under fluorescent lights can be very uncomfortable if you suffer from photophobia, commonly called light sensitivity. The condition can affect anyone but often occurs in people who have light-colored irises. Photophobia can cause eyestrain, tearing, headaches, squinting, stiff neck and nausea.
If you have your own office, it's easy to prevent photophobia symptoms simply by using a desk lamp instead of the overhead lights. Unfortunately, it's hard to avoid fluorescent lights when you work in an open-plan office. Special rose-colored Fl-41 eyeglass lenses may help improve your comfort if office lights bother your eyes.
FL-41 lenses decrease light sensitivity by filtering out blue and green wavelengths of light and improving contrast. The FL-41 filters can be added to both prescription and non-prescription lenses. Wearing these special glasses may also be helpful if fluorescent lights cause migraines or seizures.
Wear Sunglasses When Working Outdoors
Sunglasses that protect against both ultraviolet A (UVA) and Ultraviolet B (UVB) light are a must if you spend even a few minutes of the workday outside. Exposure to ultraviolet light can increase your risk of developing macular degeneration, cataracts, skin cancer, and corneal sunburn.
Whether you've experienced a work-related injury or vision problem or are due for a check-up, we're here to help you care for your vision. Contact our office to schedule an appointment.
Sources:
American Optometric Association: Computer Vision Syndrome
American Optometric Association: Protecting Your Eyes at Work
All About Vision: Computer Glasses
Prevent Blindness: Eye Safety at Work
Migraine Buddy: FL-41: Effective Migraine Treatment or Just Hype?