Worried about floaters? Find out when this common vision symptom can be a sign of a serious problem.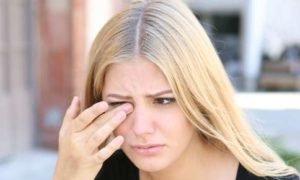 Are Floaters a Sign of a Serious Eye Problem?
Have you noticed shadowy shapes drifting in and out of your field of vision lately? You may have floaters. Although floaters are usually harmless, they can be a sign of a serious eye condition in some cases.
What Are Floaters?
Floaters occur when the vitreous in the center of your eye begins to shrink. The clear, gel-like vitreous gives your eyeball its shape and helps hold the retina in place. The retina is the light-sensing layer of cells at the back of your eye. Light impulses reflected on your retina travel to the brain through the optic nerve, where they're transformed into recognizable images.
The vitreous is affected by aging, just like every other part of your body. As you get older, it shrinks slightly, causing stringy fibers to detach from the surface of the vitreous. Known as "floaters," the fibers cast shadows on your retina when you look at brightly lit objects. The more you move your eyes when looking at a bright background, the more you may notice floaters. Floaters may also be accompanied by flashes of light, particularly when you step into a dark room.
Floaters take a variety of shapes and may look like cobwebs, specks, threads or spots. Although it may be a little alarming when you notice floaters for the first time, the phenomenon isn't usually a cause for concern.
Floaters occur as a normal part of aging but are more likely to happen after cataract surgery, if you are very nearsighted or have diabetes, according to the National Eye Institute.
You may also notice floaters if you experience bleeding or inflammation in the back part of your eye. Bleeding can be can caused by leaking blood vessels, injuries or high blood pressure.
When Should I Be Concerned About Floaters?
Seeing more floaters than normal doesn't necessarily indicate a problem, but a sudden increase in the number of floaters should be reported to your optometrist. Sometimes, you'll see a flurry of new spots if several fibers detach from the vitreous at the same times.
New floaters can also be a sign that your retina has torn or begun to detach from the back of your eye. Retinal tears and detachments are emergencies and can result in permanent loss of vision if they're not treated promptly.
If your retina tears or detaches, you may notice:
Many New Floaters
A Dark Area That Covers Part of Your Visual Field
Flashing Lights
Loss of Side Vision
Call your optometrist immediately if you notice any of these symptoms. If you can't get in touch with your eye doctor, go to the emergency room.
How Are Floaters Treated?
Although floating spots can be annoying, floaters don't usually require treatment. If you have so many floaters that your vision is affected, you may benefit from a vitrectomy, a surgical procedure that removes your vitreous and replaces it with a saline solution or gas bubble.
Retinal tears and detachments are repaired by reattaching the retina to the back of the eye. One or more of these procedures may be used if you have a tear or detachment:
Laser Surgery. Laser heat creates tiny scars that hold the torn or detached retinal tissue firmly in place.
Cryopexy. Cryopexy also creates small scars that seal the retina to the back of the eye but uses freezing temperatures rather than heat.
Scleral Buckling. Scleral buckles are often used in conjunction with laser surgery or cryopexy. Small silicone or plastic bands are sewn on to the white part of the eye. The bands reduce traction on the retina and help it reattach.
Pneumatic Retinopexy. During pneumatic retinopexy, a gas bubble is injected into the vitreous. The bubble presses against the retina, facilitating healing.
Vitrectomy. A vitrectomy not only removes floaters but also offers another way to repair tears.
Whether you're concerned about your floaters or it's time for your next eye exam, we can help you care for your eyes. Contact us to schedule your appointment.
Sources:
All About Vision: Eye Floaters, Flashes and Spots, 3/17
https://www.allaboutvision.com/conditions/spotsfloats.htm
National Eye Institute: Facts About Floaters
https://nei.nih.gov/health/floaters/floaters
Mayo Clinic: Retinal Detachment, 3/12/19
https://www.mayoclinic.org/diseases-conditions/retinal-detachment/symptoms-causes/syc-20351344
American Society of Retina Specialists: Posterior Vitreous Detachment
https://www.asrs.org/patients/retinal-diseases/9/posterior-vitreous-detachment